Spanish Flamenco Guitarist Juan Jose Manzano from Chiclana, Cadiz, brings to mind the purest Flamenco Guitar, since he was 12, for all over Andalucia with Arabic harmonies with the passion of the dance and the rhythm of the spanish style drum "the cajon".
Watch Juan perform Spanish Flamenco Guitar that breaths the air of the Bay of Cadiz playing Alegrias, Bulerias,.. reminding you of the smell of the land and the the waves of the sea playing Tangos, Rumbas.or the tranquility of the white little towns of the low lying, playing Granainas, Tarantas, Rondeñas..
Immerse yourself in Classic Spanish Flamenco style music for any reception, event, or wedding with this amazing musician. Direct from Spain Juan Jose is a master of perfection with his amazing subtle style and approach to Flamenco guitar. Having played in the Concert Hall Madrid and appeared on many leading international Albums.He has also played all major festivals in Spain including with the legendary Camaron de la Isla. He subsequently went on to play with Paco de Lucia and Cañizares in Bethnal Green, London and in the Philarmonic Concert Hall in Cologne (Germany), World music Festival, Liberty Hall and Cork Jazz Festival.
Juan Jose Manzano, 18th August 1980, is a Spanish Flamenco composer and a virtuous guitarist. Born in Chiclana de la Frontera, a southeastern point of Spain, near Cadiz.  Growing up his mother used to sing Flamenco at home which truly inspired him an early age. His brother introduced Juan Jose to the guitar at the age of 11. After only  4 lessons from a teacher, both brothers taught themselves various Flamenco artists such as Ramon Montoya, Sabicas, Paco de Lucia.. and singers such as Chacon, Mairena, Camaron.. to put his skills into practice by playing in Peñas Flamencas to accompaniment singers and dancers to learn the art of Flamenco.
When he was 18 he began playing professionally on stages all over Cadiz and Andalucia as a soloist and as a accompaniment for Flamenco singers, doing important Flamenco Festivals. He went on to achieve National Prizes as Solo Flamenco Guitarist and National Prize of Singer Accompaniment in Peña Flamenca Camaron de la Isla with singer Rancapino. In 2005 he emigrated to Ireland to try further his possibilities in music. Here he played with international musicians from Italy, Ireland, United States, France, India, Peru.. The touch of world music help him grow as a musician and give him new inspirations.
Juan Jose is open to innovate new harmonies keeping the purest Flamenco essence by gaining in depth knowledge of music full of colours and melodies. Drawing inspirations primarily from the purest Flamenco artists and playing for all over Andalucia for more than 15 years and now living in Ireland his music reflects a touch of influence who make his music sounds sweeter and more personal. Having opened his music's window to the fresh air it sounds that remind you the tranquility of the white little towns of the low lying and the smell of the sea..
To book our Incredible and amazingly talented, Spanish Guitarist for your wedding or corporate event call +353 1 201 3660 and speak to our team at Tribute Acts Ireland.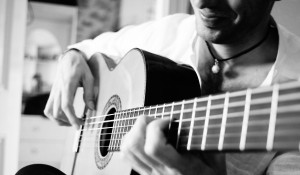 ………………………………………………………………………………………………..
Testimonial
Hi Suzy
Just wanted to send you a quick note to say how fantastic Juan was on Friday. Please pass on my thanks to him as he really helped create a great atmosphere in our enclosure!
Kind Regards,
Louise
Louise Moran | Marketing Executive | KPMG in Ireland
Fri 14th June 2013 | Iveagh Gardens, City Centre (Taste of Dublin)